Episodes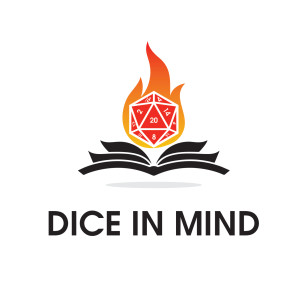 Monday Jan 09, 2023
Monday Jan 09, 2023
Happy New Year! As the world welcomes 2023, we wanted to take an episode to share our thoughts about where Dice in Mind will be going over the coming months. The result is a vamp session in which the two of us share some thoughts, tease some plans, and dive into a protracted GM Corner. Hey, that's what happens when we haven't recorded for three weeks due to our holiday schedules and travels.
An important change to note: For the next few months, we will be releasing episodes biweekly so that we can dedicate the necessary time to building the Dice in Mind brand.
But stay tuned! We already have great interviews lined up! Wait until you see what comes next.
Mentioned in the GM Corner this week:
Death in Space
Dune: Adventures in the Imperium
Modern AGE
The One Ring
Those Dark Places
Orc's Nest, London
Welcome to Dice in Mind, a weekly/biweekly podcast in which we explore the meaning of life through the lens of RPGs!  In each episode, we will consider everyday stuff like science, religion, philosophy, and economics…through the lens of a specific roleplaying game and its dice mechanic.
If you like what you hear, consider buying us a cup of coffee or becoming a patron.  You can also join the conversation by following us on Facebook.
Music by Kevin McCloud courtesy of Creative Commons by Attribution 3.0 license (https://www.youtube.com/c/kmmusic/featured).